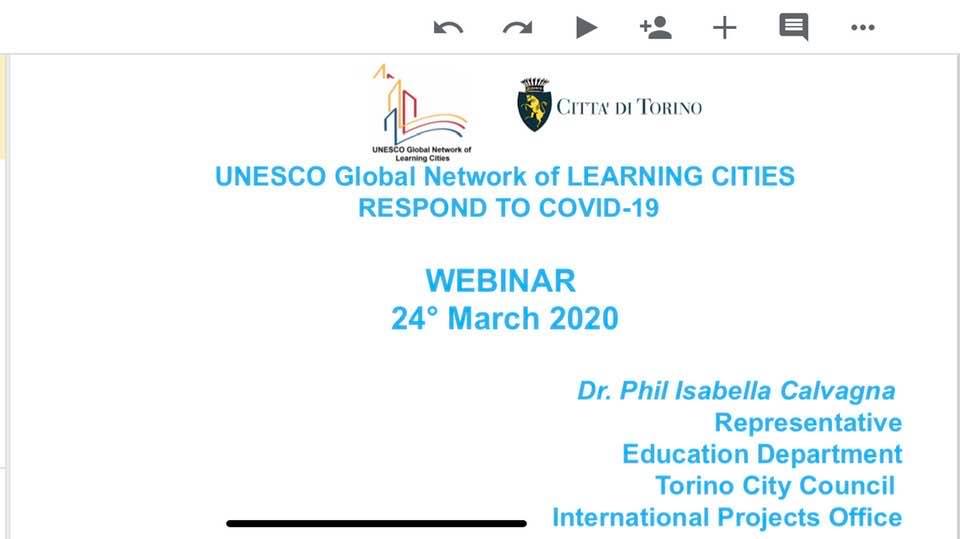 LEA participates in UNESCO online event
The UNESCO Institute for Lifelong Learning (UIL) has organized a webinar concerning the responses of UNESCO learning cities to COVID-19.
In order to exchange solutions, discuss contingency plans and share distance-learning approaches, members of the UNESCO GNLC met in a webinar on 24 MArch 2020. Non-member cities were also invited to join the online events, share their experiences and learn from other cities. This UNESCO online event involved 174 countries and 250 participants; the Torino City Council was represented by Isabella Calvagna from the Education Department, who spoke about LEA, the main contents of the project and about Torino City Lab.
Many of the 173 members of the UNESCO Global Network of Learning Cities (GNLC) around the world are facing severe challenges due to the Corona virus. These challenges include a record number of children and youth who are not in school or university because of temporary or indefinite closures mandated by governments in an attempt to slow the spread of the virus. Since the outbreak of Covid-19, all users have to face problems related to distance-learning and innovative learning solutions. The LEA project and its network, was introduced as a best practice example for Turin City and its partners and local businesses.