Education Procurement in Finland
Numbers
More information
| | | | |
| --- | --- | --- | --- |
| Number of schools K-12 | Number of teachers K-12 | Number of students K-12 | Number of computers per student K-12 |
| 2.250[1] | 44.500[1] | 564.000[1] | 0,16[2] |
Sources:
[1] www.stat.fi
[2] www.kuntaliitto.fi

Legislation of Education
More information
Education and Research Development Plan is prepared every four years which includes the main priorities of the education policy.
www.finlex.fi/fi/laki/ajantasa/1998/19980628
Programmes, strategies etc. related to education, digital education
Organisations
More information
Organization responsible for education
Role of the organization
Website
Ministry of Education and Culture

Preparation and implementation of the education policy.
Higher education belongs to the Ministry.
Outline of the national curriculum of the early childhood education.

https://minedu.fi/en/frontpage
Finnish National Agency for Education
Responsible for early childhood education and care, pre-primary, basic, general and vocational upper secondary education as well as for adult education and training.
www.oph.fi/en
Finnish Education Evaluation Centre
Evaluation
https://karvi.fi/en/fineec/
Municipalities

Decision making in case of lower secondary schools
Organizing basic education
Allocating funding
Determining and implementing the local curriculum
Employing, recruiting and training teachers and other non-teaching staff
Determining the extent of the autonomy of schools

Bodies providing advice and expert services in connection with vocational education and training lifelong learning, adult learning:

National Education and Training Committees
National Coordination Group of Education and Training
Council for Lifelong Learning
Advisory Council for Youth Affairs
Advisory Board for Early Childhood Learning and CareOther stakeholders are represented by unions. The relevant ones from the point of view of primary and secondary education are: students' unions, unions of education providers.

Education system is very decentralised, schools are allowed to make decisions individually.



Source

:
OECD: Education Policy Outlook – Finland, 2013
European Commission / EACEA National Policies Platform / Eurydice / Finland Overview:
https://eacea.ec.europa.eu/national-policies/eurydice/content/finland_en
Funding of education
More information
Type of schools
Source of funds
Pre-primary, primary, secondary, VET and tertiary education
Financed by public funding sources.

Funding for pre-primary schools and basic education funding are included in statutory government transfers to basic municipal services. Municipalities have the right to make decisions about the allocation of the funding on the basis of the number of students.

The majority of basic upper secondary education institutions get funding from the central budget and local authorities.

Private schools
Public funding
Government takes into consideration the following facts when deciding about funding going to each municipalities (from which education is financed):

●         the proportion of the population (the main aim to balance it within the country)

●         socio-economic status of the area

There is a dedicated budget for the procurement of educational technology tools and the main source are national grants.
If the value of the procurement is low, teachers can purchase tools themselves from the own budget of different teacher groups. This budget can be used for buying hardware, software or services.

Source

:
OECD: Education Policy Outlook – Finland, 2013
European Commission / EACEA National Policies Platform / Eurydice / Finland Overview:
https://eacea.ec.europa.eu/national-policies/eurydice/content/finland_en
Public expenditure on education ISCED (2011) (million EUR)
More information
Year
Primary education
Lower secondary education
Upper secondary education
Total
2012
2643,8
2161,7
no data
4805,5
2013
2709,7
2185,5
no data
4895,2
2014
2808,8
2239,1
3265,3
8313,2
2015
3009,2
2365,8
3203,8
8578,8
2016
3056,8
2392,1
3114,3
8563,3

Source: Eurostat (online data codes: educ_uoe_fine01)
Expenditure on educational institutions ISCED (2011) (Million EUR)
More information
Year
Expenditure
Primary education
Lower secondary education
Upper secondary education
Total
2012
Current expenditure
2 471,0
2 019,4
no data
4 490,4
Capital expenditure
183,1
150,8
no data
333,9
Total
2 654,1
2 170,2
no data
4 824,3
Share of capital expenditure (%)
6,9
6,9
no data
6,9
2013
Current expenditure
2 554,6
2 059,5
no data
4 614,1
Capital expenditure
166,0
134,9
no data
300,9
Total
2 720,6
2 194,4
no data
4 915,0
Share of capital expenditure (%)
6,1
6,1
no data
6,1
2014
Current expenditure
2 595,9
2 068,9
2 831,0
7 495,8
Capital expenditure
224,9
179,9
203,4
608,2
Total
2 820,8
2 248,8
3 034,4
8 104,0
Share of capital expenditure (%)
8,0
8,0
6,7
7,5
2015

 

Current expenditure
2 652,2
2 086,4
2 761,7
7 500,3
Capital expenditure
368,8
288,7
231,9
889,4
Total
3 021,0
2 375,2
2 993,6
8 389,8
Share of capital expenditure (%)
12,2
12,2
7,7
10,6
2016
Current expenditure
2 692,5
2 108,7
2 665,9
7 467,1
Capital expenditure
377,9
294,1
235,8
907,8
Total
3 070,3
2 402,8
2 901,8
8 374,9
Share of capital expenditure (%)
12,3
12,2
8,1
10,8



Source

: Eurostat (online data code: educ_uoe_fini01)
Investment plan for education / ICT in education
More information
| | | | |
| --- | --- | --- | --- |
| Year | Amount in (€) | Main pillars of investments | Share of pillars (%) |
| 2020 | 951 471 615 € | The State | |

Source:
www.oph.fi
Procurement Procedure
More information
Public procurement system is quite decentralised.
Contracting authorities have the right to decide even whether they would like to conduct public procurement or not if the value of the purchase is below the EU threshold.
All the schools are independent and have the right to make their own decision and to launch public procurements in order to purchase their own ICT tools for educational purposes. They do not have the right to decide which educational technology tool to purchase. Municipalities can decide in this question.
If there is a centralized procurement system, the process is carried out by the principals meeting (decision making), otherwise, it is the task of the principal of the school.
There are cities in Finland where primary/secondary schools can order technology (eg. IT tools) from municipal ICT providers, that handle equipment/software in large scale.
Learning materials (even digital materials) can be purchased at the school level.
Teachers play an active role: they create and formulate the contents, needs and usage descriptions. Generally, schools try to get all the new software, solutions or services to be tested by teachers before starting the procurement processes.
If a procurement is needed with a considerable value, the process must include the data management department and the practitioners from the field of procurements.
Ministry of Employment and Economy (MEE):
executes the national policymaking,
drafts the national procurement legislation and its amendments
provides help to economic actors and contracting authorities regarding the interpretation of the respective law
Ministry of Finance:
management of central government procurement processes
determined the purchase strategy
conducts the centralised procurement
Finnish National Audit Office (NAO): oversight body
monitors and checks public procurement processes in terms of budget, accounting and financial operations
reports the findings directly to the Parliament
Market Court: act as a specific review body in the first instance having authority to cancel a decision of a contracting authority partly or even fully. Against its decision appeals can be issued to the Supreme Administrative Court (SAC).
Steps of the procurement process:
Feasibility study and need analysis of the system
Tender for the industry in public info channels (if the price of the tool to purchase is small enough the schools have got the right to buy it straight, without tender)
Evaluation of the offers
Decision
The following factors are important when making decision about the purchase of educational technology tools:
price
time saved for teachers
compatibility with already used systems, software
technology is combined with training that help to use it
the opinion of the school/teachers
As regards implementation, there are differences among communities according to their level of development.
If the community is advanced, implementation process will be the responsibility of the education ICT centres.
In any other cases, the ICT departments are responsible.
Sources:
European Commission / EACEA National Policies Platform / Eurydice / Finland Overview:
https://eacea.ec.europa.eu/national-policies/eurydice/content/finland_en
Public procurement – Study on administrative capacity in the EU Finland Country Profile:
https://ec.europa.eu/regional_policy/sources/policy/how/improving-investment/public-procurement/study/country_profile/fi.pdf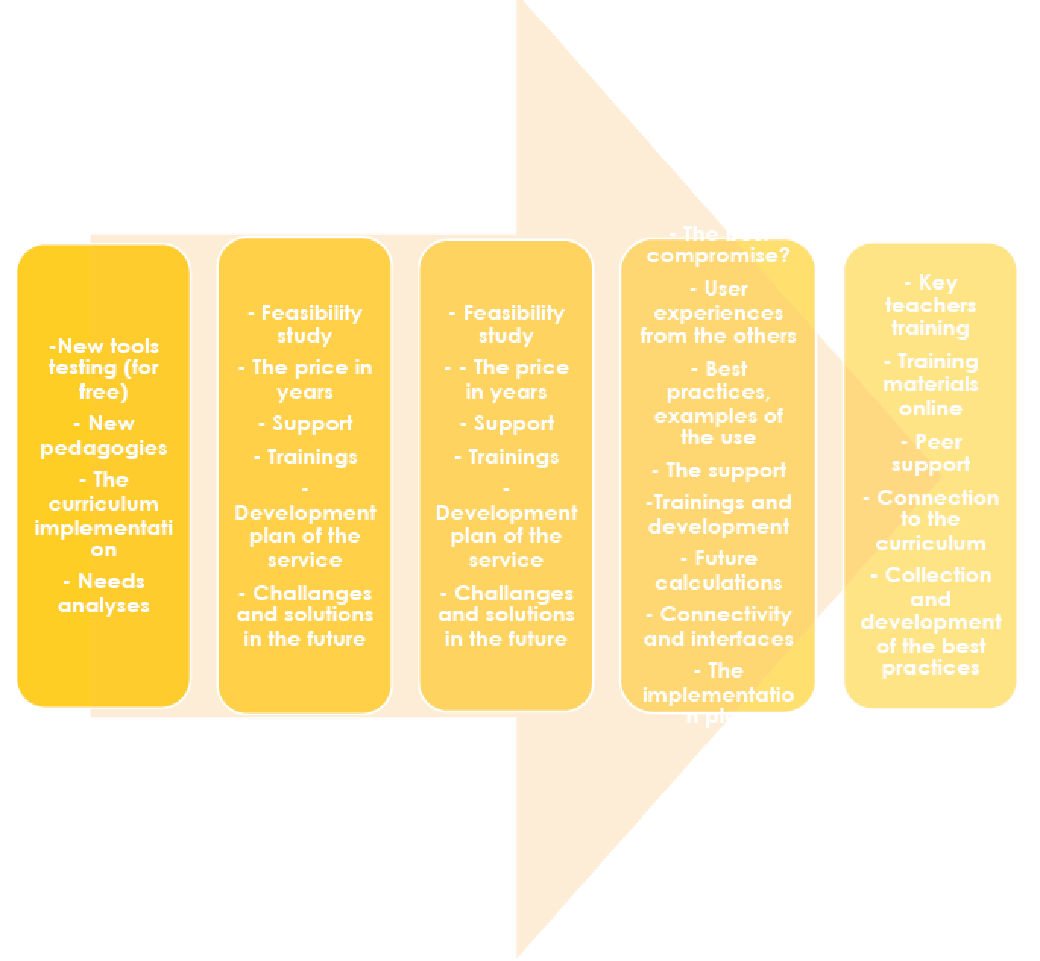 Procurement process in Finland
Source: Own elaboration by Konnevesi