Education Procurement in Czech Republic
Legislation of Education
More information
Organisations
More information
Organization responsible for education
Role of the organization
Website
Ministry of Education, Youth and Sports (MEYS)
●   Determines national education policy and long-term policy objective that guide the educational system and all-level education (pre-school, primary school, secondary school, vocational and technical education, upper secondary school, higher professional schools and adult education)
www.msmt.cz/?lang=2
Czech School Inspectorate (CSI)
●   Monitors and analyses the education system and its quality (without higher education institutions)
www.csicr.cz/en/home?lang=en-us
National Institute of Education (NUV)
●   Develops information on issues regarding education levels from pre-primary through upper secondary, vocational and technical education

●   Responsible for guidance and counselling of education

●   Formulates the framework of education programmes and guides the development of school programmes

www.nuv.cz/?lang=2
National Institute for Further Education
Focuses on in-service teacher training
http://old.nidv.cz/old.
nidv.cz/en/about-us.ep/index.html
Centre for Higher Education Studies
Develops policy and strategy for higher education
www.csvs.cz

The organisation of pre-primary and compulsory education (between 6 and 15 years old) is the responsibility of the municipalities. There are many authorities having the right to establish schools: ministries, regions, municipalities, religious societies, churches and other legal entities.

There are 14 regional government being responsible for governing upper secondary and tertiary professional schools, including the steering of the educational objectives being implemented in the educational institutions.

Sources:
OECD Educational Policy Outlook: Czech Republic, 2013
European Commission / EACEA National Policies Platform / Eurydice / Czech Republic Overview
https://eacea.ec.europa.eu/national-policies/eurydice/content/czech-republic_en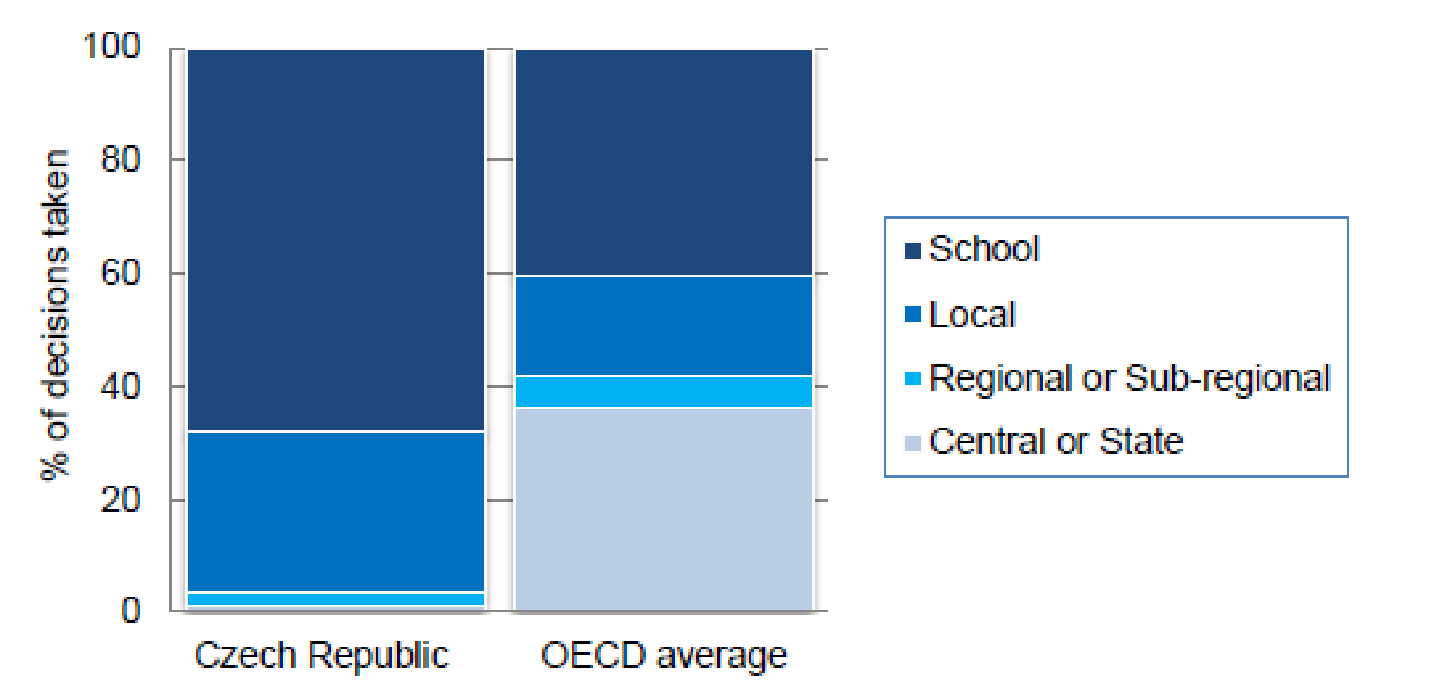 Decisions taken in public lower secondary schools at each level of government (2010)
Source:
OECD (2012), Education at a Glance 2012: OECD Indicators, OECD Publishing, Paris, http://dx.doi.org/10.1787/eag-2012-en
Funding of education
More information
Type of schools
Source of funds
Public schools
Financing is mainly determined by the Ministry of Education, Youth and Sports, while regions and municipalities can add extra funds. National funds are allocated to the regions on a per-capita basis for schools' costs such as salaries and learning materials. Regions and municipalities allocate these funds to schools.
Schools having students with special needs
Get extra funding on a per-student basis, and they can apply for extra funding in certain cases.
Private schools
State funding for teachers' salaries and running costs:

Pre-primary and primary schools up to 100%
Secondary schools up to 90%

Church schools
Fully supported by the national budget

Source: OECD 2016, www.oecd-ilibrary.org/docserver/9789264262379-7-en.pdf?expires=1587383892&id=id&accname=guest&checksum=
D6777DA45BFC49E70A87EF736C6D16F3
Public expenditure on education ISCED (2011) (million EUR)
More information
Year
Primary education
Lower secondary education
Upper secondary education
Total
2012
1151,3
1447,0
1570,5
4168,8
2013
1146,0
1393,4
1437,5
3976,9
2014
1166,4
1370,7
1354,1
3891,2
2015
1295,2
1477,4
1429,4
4202,0
2016
1304,7
1470,8
1387,7
4163,2

Source: Eurostat (online data codes: educ_uoe_fine01)
Expenditure on educational institutions ISCED (2011) (Million EUR)
More information
Year
Expenditure
Primary education
Lower secondary education
Upper secondary education
Total
2012
Current expenditure
1 086,0
1 381,3
1 617,4
4 084,7
Capital expenditure
119,2
142,6
83,6
345,4
Total
1 205,2
1 524,0
1 701,0
4 430,2
Share of capital expenditure (%)
9,9
9,4
4,9
7,8
2013
Current expenditure
1 062,9
1 307,6
1 500,5
3 871,0
Capital expenditure
137,0
160,2
64,8
362,0
Total
1 200,0
1 467,8
1 565,4
4 233,2
Share of capital expenditure (%)
11,4
10,9
4,1
8,6
2014
Current expenditure
1 052,3
1 250,5
1 380,3
3 683,1
Capital expenditure
164,8
188,2
94,7
447,7
Total
1 217,1
1 438,7
1 475,0
4 130,8
Share of capital expenditure (%)
13,5
13,1
6,4
10,8
2015

 

Current expenditure
1 187,8
1 363,0
1 427,8
3 978,6
Capital expenditure
160,4
182,1
122,8
465,3
Total
1 348,2
1 545,1
1 550,6
4 443,9
Share of capital expenditure (%)
11,9
11,8
7,9
10,5
2016
Current expenditure
1 242,6
1 406,9
1 439,4
4 088,9
Capital expenditure
116,7
132,1
74,0
322,8
Total
1 359,3
1 539,0
1 513,4
4 411,7
Share of capital expenditure (%)
8,6
8,6
4,9
7,3



Source

: Eurostat (online data code: educ_uoe_fini01)
Investment plan for education / ICT in education
More information
Procurement Procedure
More information
The public procurement system is decentralised, all the contracting authorities manage their own procurement without any central control. There is no central purchasing body, but it is allowed for contracting authorities to implement joint purchasing. The list of commodities that can only be purchased jointly is an effort by the government to insert some sort of centralization in the system.
The Ministry of Regional Development (MoRD)
proposes legislation and implement the regulations in connection with public procurement procedures
provides support and help for contracting authorities
manages the online Public Procurement and Concessions Portal
responsible for the Information System on Public Procurement
Office for the Protection of Competition (OPC):
supervises the public procurement procedures in terms of compliance to the legislation
is authorized to impose any penalties, sanctions and even bans in case of any breaches. Against its decisions, appeals can be submitted to the Regional Court in Brno and to the Supreme Administrative Court.
Supreme Audit Office (SAO): performs external reviews in terms of compliance with the regulations and forwards its findings to the Parliament, the administration and the general public together with recommendations on how to use the public funds. It has no authority to impose any sanctions.
Source:
Public procurement – Study on administrative capacity in the EU Czech Republic Country Profile:
https://ec.europa.eu/regional_policy/sources/policy/how/improving-investment/public-procurement/study/country_profile/cz.pdf